Human Capital Improvements
The offerings of the Natalie Brown Consulting Group are honed into a unique brand of human capital improvements and leadership development services. Our methods include analysis, assessment, and strategic execution to drive change, accountability and business results for our clients. Our offerings are: 
Leadership Assessment
With leadership assessment, often called developmental assessment, an organization can strategically identify an employee's workplace skills and personal traits that have proven successful to date, as well as areas for development; hidden talents; even opportunities to increase productivity. Within the leadership assessment offering, the Natalie Brown Consulting Group may even pinpoint where otherwise talented employees may be derailing themselves. Often, leadership assessment leads to coaching. 
Benefits of leadership assessment include:
Energizes employees by showing that the company cares for the growth of the individual and is willing to invest in his/her success
Underscores the skill sets the individual possesses as well as areas that can be improved
Focuses a manager on how best to motivate and develop an individual
Allows the creation of better work teams, providing cautions and solutions regarding conflicts that may occur 
---
---
Leadership Development
Working together with executive sponsors to create leadership development programming that meets organizational objectives is a key competency of the Natalie Brown Consulting Group. The high-level methodology necessary to develop a strong program would consist of:
Documenting an organization's leadership development needs
Identifying a leadership development requirement baseline
Proposing leadership development performance standards for all management levels
Composing the details of a customized leadership development program
A leadership development program appropriately integrated into the leadership culture of an organization can be found to positively impact:
Quality
Financial health and performance of the agency
Innovation
Ability to execute on strategy
Employee satisfaction
Retention and advancement of the right people
Fulfillment of mission
Growing contribution to community and society
Benefits of leadership assessment include:
Boosting morale
Limiting employee turnover
Increasing productivity
Providing better vision
Fostering new ideas
---
---
Succession Planning
Any trip, even a quick one to the grocery store, requires you to choose the destination, prepare logistics (on occasion consult your GPS) and plan your trip. Having a clear understanding of the leadership strength, promotion readiness and development needs of all supervisory level personnel, succession planning provides guidance for an organization's future in light of there being a cadre of talented experienced professionals within the organization. Succession planning provides the organization with the opportunity to develop the next generation of leaders in a more strategic fashion. There are three key components of a succession plan effort for an organization:
A clear succession planning policy
An initial succession planning exercise
Launch ongoing succession plan component of the organization's leadership development plan
Benefits of succession planning include:
Improving organizations by having a well trained, acculturated and motivated employee pipeline with all the advantages of mentorship and lineage
Aligning staff development with the organization's strategic vision
Building leadership capacity, also known as bench strength
Engaging executives in the development of the next generation of organizational executives
Fostering the promotion of employees from within who tend to be highly motivated and are already knowledgeable about the organization's future goals and objectives
Developing capacity for high level leadership positions within the organization to be filled internally when the need arises
Providing consistency to the organization's business and therefore provides stability to the organization
Saving time and cost by training and promoting from current employees
---
---
Team Building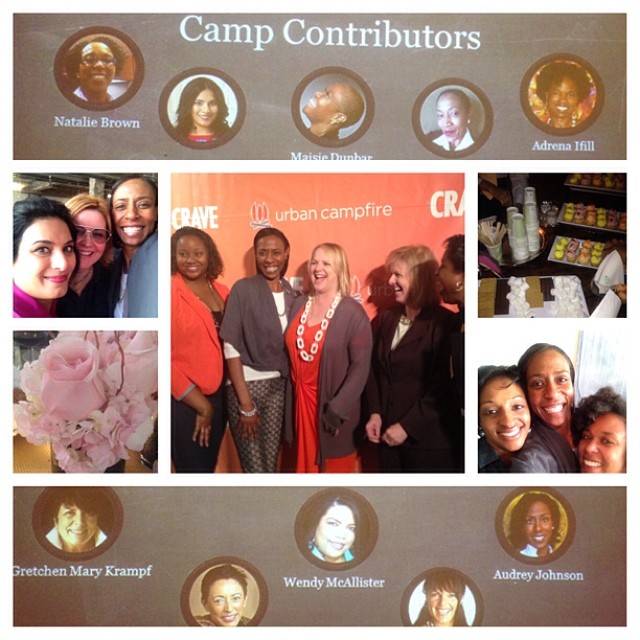 May 7 2014, Ms. Brown was a Camp Contributor (Team Facilitator) for Urban Campfire at the LongView Gallery, 1234 9th St NW, Washington, DC 20001
Team building activities are important not just for the immediate experience of the activities performed by the team, but also for the communication skills, functional team behaviors, improved personal interactions and increased trust that result. The activities are merely the means toward high-impact learning. Team building programming provides realistic experiences that empower individuals to contribute to common goals. The success of most organizations depends on the ability of individuals to function within the construct of effective teams.
Benefits of team building include:
Improving morale and leadership skills
Finding the barriers that diminish creativity
Defining clear objectives and goals
Improving processes and procedures
Improving organizational productivity
Identifying a team's strengths and weaknesses
Improving problem solving abilities
---
---
360&deg Assessment
Management positions can benefit significantly from a 360 degree assessment conducted by the Natalie Brown Consulting Group. This type of third party assessment provides managers with an unfiltered view of their performance in the workplace according to a selected group of employees (including managers, direct reports and peers) who represent multiple layers of the organization.
Benefits of 360* Assessment include the manager:
Learning how staff views his/her routine behaviors.
Receiving evidence of his/her strengths.
Gaining insight around his/her weaknesses.
Receiving feedback about certain aspects of his/her professional image.
Learning how his/her staff interprets his/her frame of mind and world view.
Finding out how his/her staff see him/her as a human being.
Getting a peek at how others view him/her outside of the department.
Receiving information about his/her impact upon others.
Getting clues about his/her professional and personal development needs.
Learning how he/she influences his/her employees' attitudes, work performance, and job satisfaction.
---
---
Executive Coaching
Executive coaching seeks to identify, and/or define the desired culture of the working environment. Coaching introduces and develops new ways of aligning the entire organization, bringing the staff together to learn how to work as a high functioning unit. Executive coaching is sometimes used when an organization desires a change in its leadership style. Having a Natalie Brown Consulting Group coach assist with introducing these changes helps prevent resistance among different members of the team. Our experienced executive coaches will walk the team through models and processes that are easy to adopt within their day to day operations.
Benefits of Executive Coaching include:
Improving staff retention
Increasing productivity
Improving the performance of all employees
Increasing staff satisfaction in their jobs
Changing executive ways of leading and communicating with staff
Increasing commitment of employees who work toward meeting the company's goals and objectives
Promoting higher work performance
Developing new talents